News
Dani Niss is forever grateful that her son Weston attends Johnson-Brock Public Schools where he is surrounded by educators who love him and care about his well-being.
Tuesday, March 29, 2022, 2:14 p.m. CDT
JOHNSON — When Dani Niss' husband, Bryce, died in November 2020, she didn't know where she and her autistic son, Weston, would turn.
Ultimately, she made the decision to move to Johnson to be closer to her family and it ended up being a rewarding experience for her, but one that changed Weston's life.
Niss enrolled her son in Johnson-Brock Public Schools and was immediately heartened by the support and care the teachers showed Weston. She also appreciated how respectful they were of the families' current situation.
Johnson-Brock's family vibe is why Niss acted as a "leader" in nominating Weston teachers for the Friends of Autism Team Award.
The award is presented annually by the Nebraska Autism Spectrum Disorders Network to the school that demonstrates commitment, vision, inspiration, and innovation in the development of its students.
And Niss' call for Johnson-Brock teachers to be nominated for the award bore fruit Tuesday morning, when they were announced as the winners of the award.
Niss further elaborated on why she felt the school deserved this honor as she addressed the crowd.
Niss: "From day one [the faculty] pledged to help Weston and give him the support he needed to thrive. The team made the adjustments, accommodations and modifications to support Weston."
Nis: "[The teachers] helped be a catalyst, I guess, to support her acceptance in the community and in school with her peers."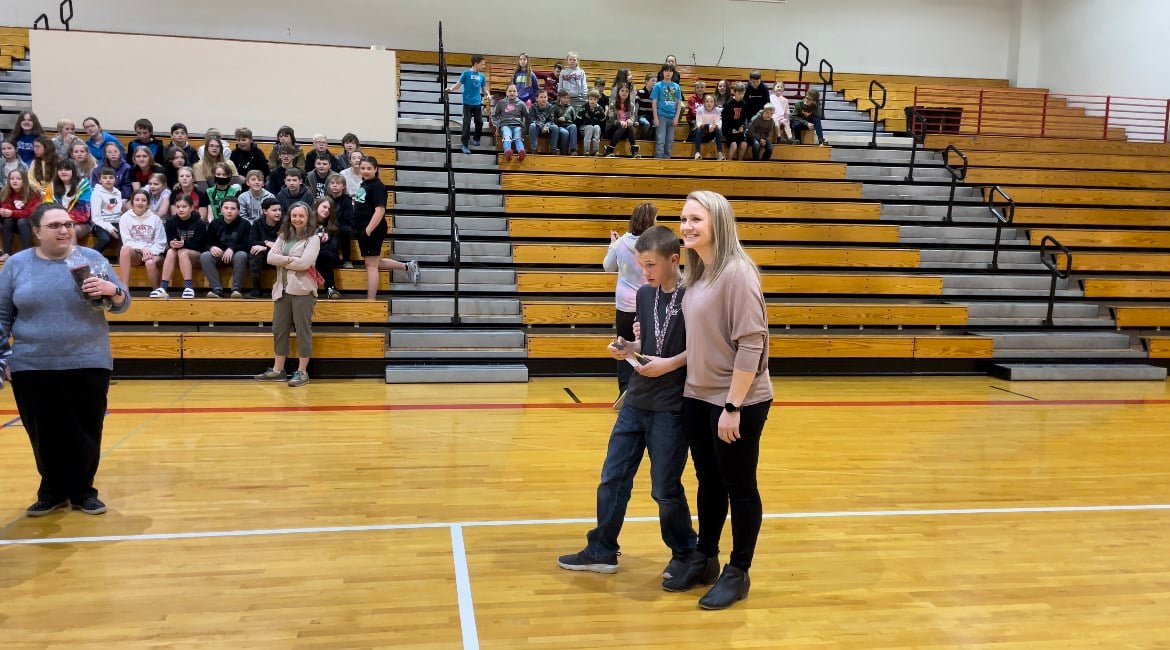 Dani and Weston Niss pose for a photo at Johnson-Brock Public Schools
Weston is still struggling every day to come to terms with the loss of his father. Niss said Bryce had an unspoken language with Weston that helped them become so close.
She added that he was still trying to find his "new normal", but that the school had helped him enormously in this endeavour.
Niss: "Here [teachers] have been very supportive and accepting of this, and have sought to find out how they can also support Weston on his grief journey."
Niss is usually referred to around town as "Weston's mother" instead of her first name, which she doesn't mind as she hopes events like Tuesday's can continue to raise autism awareness.
Niss: "Hopefully we can have an impact on autism awareness and acceptance, ultimately."
Weston, 11, is exactly where he is supposed to be according to Niss, and she ended her speech to the crowd by thanking her teaching team.
Niss: "As a parent, I felt involved every step of the way and am grateful for their selfless and tireless work in helping Weston reach milestones I never thought possible."